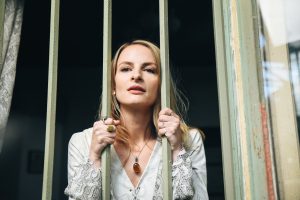 Original title:
Și poate mai trăiesc și azi
English title:
And They May Still Be Alive Today
Director:
Tudor Cristian Jurgiu
Produced by:
Libra Film Productions
Production status:
In post production
Synopsis:
When Vlad is jealous Clara is sure of herself. When Clara is enthusiastic, Vlad is bored. When Vlad is happy, Clara is depressed. When Clara is furious, Vlad is calm. Only when Vlad becomes Prince Charming, does Clara finally become his princess.
Tired of waiting for love to happen to her Clara (33) decides to make it happen. Passive and kind, Vlad (31) is the perfect partner. Her project? To live the perfect love. Her inspiration? Books, films and folklore. On their first date they plan their perfect love like a project with clear checkpoints. Then they start to play. For a while they are happy. But he hates being alone more than he loves her. This makes her fearful and anxious, and probing his love with little games. He tries to be patient and console her but finally breaks into anger. In desperation she goes swimming far into the sea to test him. He barely manages to save her from drowning. He decides to break up but before, they go to the countryside and play a game becoming fantastic characters from a Romanian fairytale. Fantasy takes over and they will emerge from it more mature. Acting out stops here?
A new film directed by Tudor Cristian Jurgiu, awarded for The Japanese Dog .
---
Crew:
Directed by:
Tudor Cristian Jurgiu
Scriptwriters:
Tudor Cristian Jurgiu, Anca Tăbleț
Editing:
Dragoș Apetri
Director of Photography:
Laurențiu Răducanu
Sound designers:
Alexandru Dragomir, Filip Mureșan
Production Designer:
Miruna Bălașa, Tatiana Grigorescu
Costumes:
Alma Alexandra Ungureanu
Make up & Hair:
Andreea Dumitrescu
Line Producer:
Adriana Răcășan
Executive Producer:
Bogdan Crăciun
Producers:
Tudor Giurgiu, Bogdan Crăciun
Cast:
Nicoleta Hâncu
Bogdan Nechifor
---
Selected at:
Developed through Torino Film Lab's FrameWork 2016 programme
Selected in the First Cut+ programme, Trieste Film Festival 2020