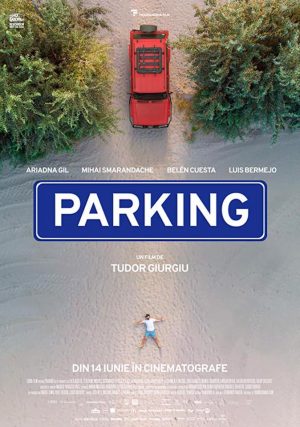 Production status:
Released
Synopsis:
Adrian is a poet, a Romanian immigrant working as night guard at a car dealership in Cordoba. He already knows Spanish, he lives utterly alone and all he wants is to write and start a new life. His encounter with Maria, during the Night of San Juan, seems written in the stars. Their passion, oblivious of anyone and anything, will soon be tested by the challenges they must face together. Love and literature will save Adrian
Parking is based on the Romanian bestseller Apropierea by Marin Mălaicu Hondrari, a story involving a Romanian poet who's life changes forever when he falls in love with a Spanish woman. It is Tudor Giurgiu's fourth feature film.
The film opened the 18th edition of Transilvania International Film Festival and has been released in Romanian cinemas in June 2019.
Filming took take place in three Spanish cities: Cordoba, Seville and Candas, as well as in the Romanian town of Sângeorz-Băi.
Developed with the support of the Romanian National Film Center, Canal Sur (Spain) and the Creative Europe programme – MEDIA of the European Union.
---
Crew:
Directed by:
Tudor Giurgiu
Screenplay:
Tudor Giurgiu, Marin Malaicu-Hondrari
Cinematography:
Marius Panduru
Production Design:
Sonia Nolla
Costume Design:
Fernando Garcia
Produced by:
Libra Film
Co-produced by:
Tito Clint Movies (Sevilla), Evolution Films (Prague)
Producers:
Bogdan Crăciun (Romania), Olmo Figueredo (Spain)
Cast:
Mihai Smarandache
Belén Cuesta
Ariadna Gil
Luis Bermejo
Carmen Florescu
---
Selected at:
Transilvania IFF 2019
Valladolid International Film Festival
Seville International Film Festival